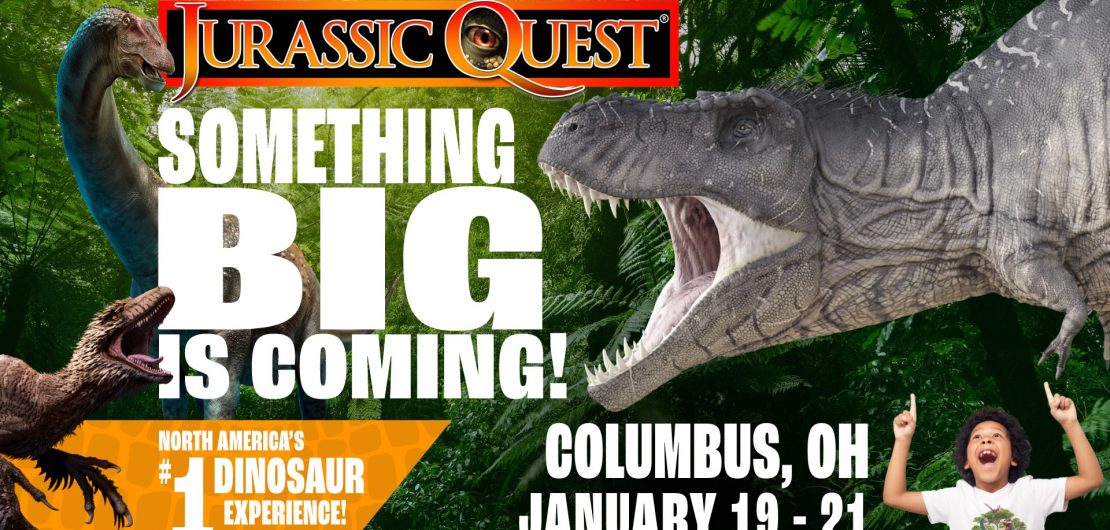 Jurassic Quest- Columbus, OH
Details
Date: January 19, 2024
Time: 09:00 am
Venue
Jurassic Quest- Columbus, OH
717 E. 17th Ave.
Columbus, Ohio, United States
Jurassic Quest is ROARING into Columbus, OH from January 19-21st!
DON'T MISS:
* LIFE-SIZE, SKY-SCRAPING DINOSAURS
* ONE-OF-A-KIND WALKING DINOSAUR RIDES
* LIFE-SIZE T.REX SKULL
* INCREDIBLE FOSSILS, including REAL T.rex teeth and Triceratops horn
Come join us from January 19 - 21st at the Ohio Expo Center in Columbus, OH!
Purchasing tickets online before the event guarantees entry in case of sell out
We are Jurassic Quest, the largest & most realistic traveling dinosaur experience in North America!
Jurassic Quest is the ONLY place where your family can experience:
* The largest and most realistic Dinosaur Exhibit on tour, featuring true-to-detail (and size!) dinosaurs, including a 60 foot long, sky-scraping Spinosaurus, our 80 foot long Apatosaurus, and our gigantic LIFESIZE T.rex.
* Our one-of-a-kind interactive Baby Dinosaur Show and Raptor Training Experience
* Opportunities to meet and greet loveable baby Dinosaurs like Tyson the T.rex, Cammie the Camarasaurus, and Trixie the Triceratops - plus their Dino Trainers
* Walking Dinosaur rides & Stationary Dinosaur rides, including some of the largest rideable dinosaurs in North America!
* Dino Bounce Houses & Bungee Pull
* Ready, Set, Quest! Take on The Quest at Jurassic Quest, an interactive challenge that leads adventurers through 10 clues within the experience! Finish all the activities & earn a reward!
* Fossil digs, Jurassic Jeeps, Crafts & Coloring Station, Fossil Experience, "Tricera-tots" (a soft play space for our littlest dino lovers), and MORE!
TIPS:
1. Strollers and wagons are welcome.
2. Be sure to bring your camera . There will be a TON of great moments to capture!
3. Bring socks for the kids! Socks are required for the inflatables.
4. Jurassic Quest is a go-at-your-own-pace, self-guided experience. The average length of stay to enjoy all Jurassic Quest has to offer is 1 to 2 hours.
5. Have a dinosaur question before your Quest, after, or even DURING? Weve got 
#facts
. Park Ranger Marty has the DINO 411! Just text your question to 844-DINO-411 or 844-346-6411.