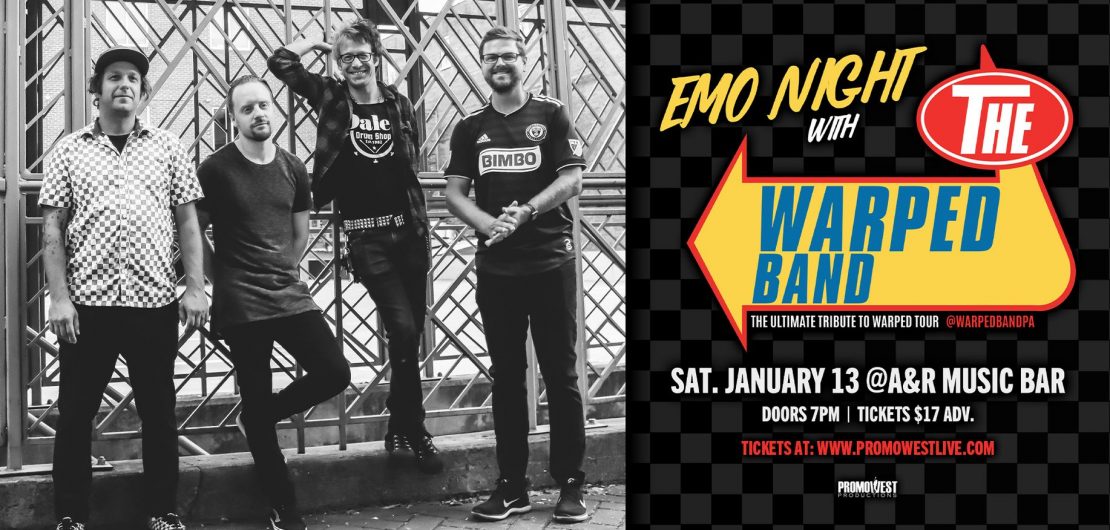 Emo Night with the Warped Band at A&R Music Bar | Columbus, OH
Details
Date: January 13, 2024
Time: 07:00 pm
Venue
Emo Night with the Warped Band at A&R Music Bar | Columbus, OH
391 Neil Ave
Columbus, Ohio, United States
The Warped Band - The Ultimate Tribute to Warped Tour brings their high energy, crowd interactive Emo Night to A&R Music Bar in Columbus, OH on Saturday January 13th for a night of Heartbreak and EMO-tion.
Sat Jan 13th, 2024
Doors: 7:00PM
Tickets start at $17
Remember your first time at Warped Tour? The bands, the heat, meet & greets, merch tents as far as the eye could see, the inflatable slide and of course the lineup board... trying to figure out your day of how you were gonna see every band you wanted that day. It was always the best day of summer when we were younger.
Grab your eyeliner and black nail polish... Sunscreen up and get ready for a high energy throwback experience. Performing songs by bands like Blink 182, Good Charlotte, Fall Out Boy, Papa Roach, Green Day, Panic! At The Disco, Paramore, Reel Big Fish and more.... The Warped Band brings you the best from Warped Tour as well as some of their own twists on artists including Olivia Rodrigo, The Killers, Tom Petty and more. This is truly a night for heartbreak, tattoo filled EMOtion.